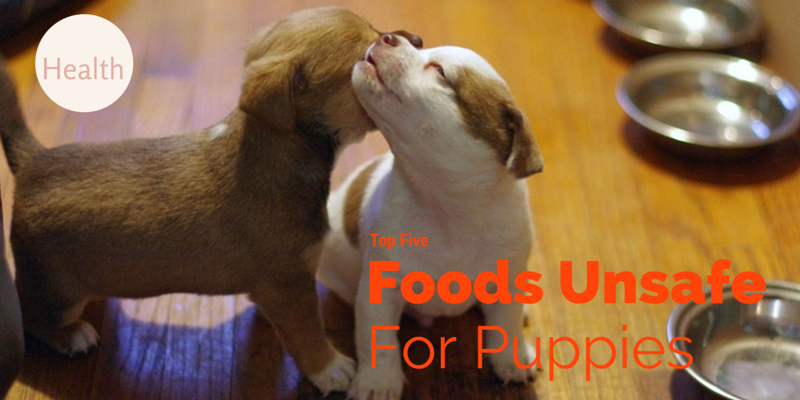 You've brought home an adorable new family member. Congratulations! There's going to be a lot of fun times ahead of you, but we all know how curious puppies can be and how hard it can be to resist those innocent brown eyes.
To help you keep your new furry friend safe, here's a list of foods that are unsafe for puppies:
Avocados – Guacamole is delicious, but contains persin which in large quantities can be fatal to a dog. Persin is found in the leaves, bark, seed and the fruit.
Alcohol – Leave the wine tasting to the humans! Alcohol, even a little can damage a dog's liver and brain. It can induce vomiting, diarrhoea, central nervous system depression, coordination issues, breathing difficulties, coma and even death. The smaller the puppy, the higher the risk.
Coffee, Tea and Other Forms of Caffeine – Large amounts of caffeine is dangerous for dogs and there is no antidote. Caffeine poisoning symptoms include bleeding, heart palpitations, muscle tremors, rapid breathing and fits.
Chocolate – Chocolate contains theobromine which is toxic to dogs. It is in all kinds of chocolate including white chocolate. Dark chocolate, chocolate mulch and unsweetened baking chocolate have been known to be the most dangerous. Even a little can induce vomiting, diarrhoea and excessive thirst. It can also cause tremors, seizures and death.
Raw Eggs – Raw eggs can cause food poisoning from Salmonella and E.Coli. Raw eggs also contain an enzyme which interferes with B. vitamin absorption which can lead to skin or coat problems if the dog is fed raw eggs for prolonged periods of time.
If your pet has consumed a food that is unsafe, be sure to have your local vets and closest emergency clinic phone numbers on hand.
Written by Anna B. Anna has been a life long animal lover. She has volunteered with many animal rescues and equine therapy programs. She is a proud owner of three wonderful rescue dogs and a cat. She provides Reiki therapy for dogs, cats and horses.
Read more about foods to avoid giving your puppy
---
The information on PuppyPages website is not meant to replace first hand treatment of your dog by a professional vet. Always consult your vet for medical and health care advice. You should not rely on any of the information on this website for medical diagnosis, treatment options or other health care decisions about your pet. When possible we have articles fact checked by experienced Vets and Vet Nurses.
Read full Disclaimer here