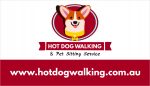 Who we are and what we do
HOT Dog Walking specialises in : Dog Walking, Pet Visit/ Sitting/ Taxi
We are professional, reliable, and easy to work with. We provide you peace of mind knowing that your furry family member is loved and cared for in your absence.
Our small boutique business has become established with the support of the local community through word-of-mouth recommendation and endorsement catering to Inner West Sydney and Inner city Sydney Suburbs.
We know you have a busy schedules and you want the best for your fur baby. Your designated dog walker, dog sitter and pet sitter will be there to walk your dog, chauffeur your pet for vet appointment, grooming appointments or to take care of your pet when you are away on holiday.
We are fully insured, vetted and registered in the state of New South Wales providing dog walking, cat sitting and pet minding services as a professional pet carer.
Contact us at 0434 043 927 for a complimentary first meet and greet to discuss your specific requirements & tailored individual package for your pet.
You can also follow our daily adventures on Instagram and Facebook.