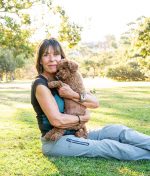 Who we are and what we do
Many treatment modalities are suitable for both humans and animals. Animal physiotherapists determine what techniques are effective and safe (or not suitable) for your companion.
- Mobilisation & Stability:
We manipulate joints, massage and stretch muscles and ligaments, and design a programme to suit your animal's condition, age and temperament.
- Strengthening & Balance:
We need good balance and coordination to avoid injury and relapse. After any trauma, surgery or just inactivity, we automatically lose our sense of balance and core strength, and we need to actively retrain to get it back.
- Rehabilitation & Recovery:
Having a rehabilitation plan for your animal will help them recover from any injury or surgery quickly and avoid recurring complications and injury in the future.
We Provide a Caring hands on approach
Animal physiotherapists choose techniques specific to the needs of our clients. For example, manipulation, neuromuscular stimulation, dry needling (acupuncture), hot and cold therapy, hydrotherapy, appropriate movement and exercise, balance and postural correction, myofascial release.
We also offer alternative techniques
Holistic therapies such as Bowen, Reiki, homeopathy, and Craniosacral technique may also be of benefit to your animal and can be used in conjunction with more mainstream approaches.