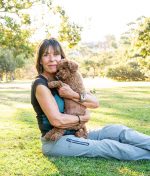 Physiotherapy can be of enormous benefit for animals, the same as it for humans. Physio aids in faster recovery from surgery, trauma, sports injuries, and age related complaints.

We treat a wide variety of conditions: spinal and neurological, athletic injuries, arthritis, acute and chronic back injuries, orthopaedic cases (such as hip and elbow dysplasia, knee injuries), pre and post surgery, and age related problems.

The aim is always to alleviate pain ,restore to optimum function and regain as much fluid, pain free movement as possible.