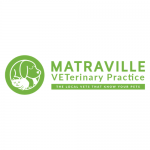 Who we are and what we do
At Matraville Veterinary Practice we believe in putting the health and wellbeing of your pet at the centre of everything we do.
Our large team of friendly, dedicated staff will take care of your pet's every need; from regular check-ups and vaccinations, general health care, diagnosis and treatments to grooming, surgery, boarding, puppy school and house calls to vaccinations, dental and de-sexing, to more complex medical investigations and treatments. Our newly renovated practice has everything on hand to provide you with exceptional and quality service.
We are "The local vets who know your pets" and here to help you with any urgent enquiries or assistance you might need. Call 1300 MAT VET / 1300 628 838 to speak with us or drop in.