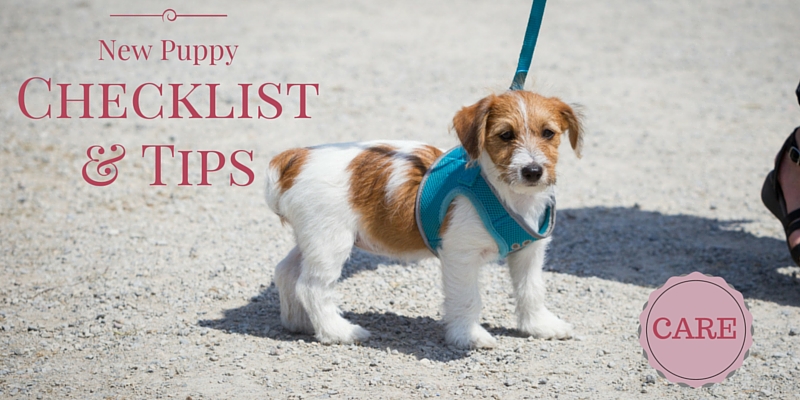 So you're about to welcome a new puppy into your home, but it's your first time and you're starting to feel like a lost puppy yourself. Help is on the way, thanks to all of us at lovethatpet.com we've prepared a checklist that will make it easier to determine your next steps, and thrown in a few tips for good measure. Your pup will make himself at home in no time.
The Checklist
Visit a veterinarian
Once your pup has arrived at his new home, it will be time to take him on another trip—to the veterinarian for his first check-up. You will want to have the vet examine your puppy's skin, coat, eyes, ears, nose and mouth to ensure he is not facing any health issues. He or she will also inspect your new pet for common parasites including fleas, ticks and worms. It is also crucial that all necessary vaccinations be administered, as puppies do not have a strong immune system and can be brought down quite easily by certain illnesses. Before you leave the clinic, schedule an appointment to have your puppy spayed or neutered. This not only removes the risk of an unwanted litter, but also reduces the risk of certain cancers in both male and female dogs.
Register and microchip your puppy
The law requires that your puppy be implanted with a microchip from the time he is 12 weeks of age. He must also be registered with the local council by the time he reaches 6 months of age. These formalities make it much easier to locate and identify your dog if he gets lost.
Send your puppy to school
A well-trained dog is a pleasure to be around, but one which is not can be very destructive. Some training is recommended no matter what the breed of your dog might be. A short, four week course that teaches your puppy how to behave around other dogs and people is recommended as the bare minimum for all breeds. Topics typically covered include walking on a lead, basic obedience, exercise and toilet training.
Establish a routine for your puppy
Establishing schedules for walking, feeding, bathing and teeth brushing helps your puppy get used to his new life much faster. Set some rules on how to reward or discipline your puppy, and then implement them with consistency. Dogs thrive with routines, particularly when adjusting to a new environment.
Other things to consider
Puppy-proof your home – Toxins can be found in many cleaning supplies in the home, so you need to make sure they're out of reach of the paws of a curious puppy. Baby gates can keep puppies out of rooms containing anything dangerous. Small items can be swallowed by puppies and shouldn't be left lying around.
Supplies – Head to the pet shop soon after taking your puppy home, as you're going to need numerous supplies which might include a collar, a 6-foot leash, a bed, food and water bowls, treats, poop bags for when you go on walks together, puppy pads, odour and stain neutralisers to take the sting out of house training accidents, and toys to play with. You'll also need some grooming supplies like a brush, nail trimmer, shampoo and conditioner, a toothbrush and doggy toothpaste.
Introduce your puppy to his new home – Your home is going to be foreign and perhaps scary to your puppy when he first arrives, so it's up to you to introduce him to everything and everyone, and try to minimise his fear. Cars, other people, children, other pets and skateboards can all be new and sometimes scary to a puppy.
Selecting the right food – Don't just reach for the cheapest pet food. Make sure any food you buy complies with the Australian Standard: manufacturing and marketing pet food AS 5812:2011. It's best to feed your puppy both dry and wet foods. Read the packaging carefully and compare brands, perhaps experimenting with a few before alighting upon your final choice. Foods that are labelled "complete and balanced" tend to be more nutritious.
Pet insurance – Just as people might choose to buy health insurance, pet insurance can offer peace of mind by providing coverage in the event of emergencies, accidents and illnesses. Some pet insurance options also offer coverage for preventative care, annual check-ups and vaccinations. Compare various plans to find one that suits your budget and is the most appropriate choice for your puppy.
Congratulations on welcoming this new member of your family into your home! All of us at Love That Pet would be delighted to help your dog enjoy the best possible health so you can get the most out of your lives together. We have locations in Normanhurst, North Ryde, Darlinghurst, and Gold Coast North. Our friendly staff will see to it that a visit to the vet is a pleasant experience for your puppy.
Checklist written by the Team at Love That Pet
Photo Credit: Anthaea Jones
---
The information on PuppyPages website is not meant to replace first hand treatment of your dog by a professional vet. Always consult your vet for medical and health care advice. You should not rely on any of the information on this website for medical diagnosis, treatment options or other health care decisions about your pet. When possible we have articles fact checked by experienced Vets and Vet Nurses.
Read full Disclaimer here