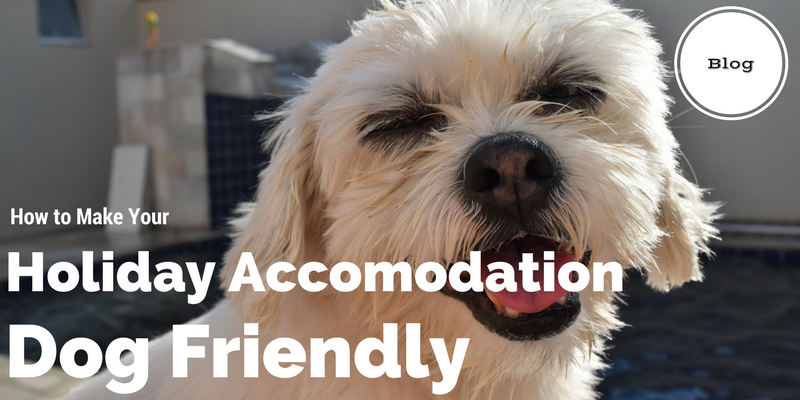 Do you have an existing holiday accommodation business or planning on starting one and plan on making it dog friendly?
We have compiled a list of tips and suggestions on how you may be able to achieve this and in turn attract travellers with their dogs.
Policy
Decide if you will allow guests to have their dogs inside or outside only and if allowed on furniture
Vaccinated, wormed and receiving flea treatment prior to visiting your property
Will dogs be allowed off lead on the premises or must be on lead at all times
Cleaning fee or pet bond
Facilities
Bathing facility (even if just tub & hose) or recommend one nearby or list of local groomers
Fully fenced and or fenced court yard/area
If indoor, make furniture more pet friendly and stuff that can be cleaned easy from fur, mud/dirt, smells etc which includes floor furnishings/finishes
Maybe supply natural cleaners in units so owners can clean up during stay
Wash and wear paint
Extras
Supply of dog bed (maybe plastic and they can bring own blanket) or outside plastic kennel (easily washed)
Pet bowls and spoons if you don't want them using your cutlery
Dog pamper/welcome pack
Local Entertainment and Attractions
List pet friendly excursions and walks/beaches
Local events that allow dogs
The above are general tips and suggestions on how you could make your holiday accommodation dog friendly. We understand its a personal choice whether you allow pets or not on your property. However we hope we have given you some extra ideas if you are thinking about making it more dog friendly.
If you are a traveler that takes their dogs with them or are a business owner and you have any tips or suggestions that you would like to add, let us know.
---
The information on PuppyPages website is not meant to replace first hand treatment of your dog by a professional vet. Always consult your vet for medical and health care advice. You should not rely on any of the information on this website for medical diagnosis, treatment options or other health care decisions about your pet. When possible we have articles fact checked by experienced Vets and Vet Nurses.
Read full Disclaimer here