Why Does My Dog Need Toys?
There are several reasons to invest in quality toys for your dog:
Provides relief from boredom when you are away from home or busy with other household chores. This keeps your dog from engaging in other activities you may disapprove of such as chewing up the couch cushions or those new curtains you just bought.
Helps with pent up energy.
Dogs are chewers by nature.
Teaches your dog what is okay to chew on and what is not okay to chew on.
Provides a reward system with something other than food.
How to Pick Safe Toys
When buying toys for your dog, make sure they are specifically designed for dogs. Items like stuffed animals are filled with irritating Styrofoam and other pieces that could be a choking hazard. Be cautious about buying toys with squeakers, some dogs like to take them out and swallow them. When purchasing dog toys, consider your dog's personality. Does he carry around a pair of your socks? Perhaps getting a plush toy would be the best option for you both. Does she spend many hours trying to figure out how to get something from underneath your couch or in strange corners? Then you will want to check out puzzle toys.
Top Dog Toys
The Kong is made of thick indestructible rubber making it the perfect choice for teething puppies. It can also be filled with special surprises for your puppy to find. Kong does sell various special shaped treats, but you could easily fit your furry friend's favorites from kibble to peanut butter.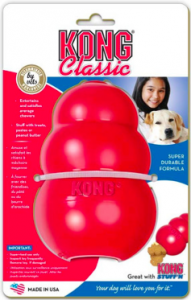 Puzzle Balls – Provides mental stimulation and physical activity. Simply fill the ball with favorite treats and let it roll. The rolling will eventually cause treats to fall out. There are many to choose from on the market and some even have settings to make the game more challenging and entertaining.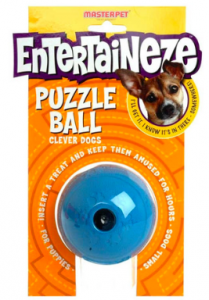 Please note that product pictures used are for examples only
Written by Anna B. Anna has been a lifelong animal lover. She has volunteered with many animal rescues and equine therapy programs. She is a proud owner of three wonderful rescue dogs and a cat. She provides Reiki therapy for dogs, cats and horses.
---
The information on PuppyPages website is not meant to replace first hand treatment of your dog by a professional vet. Always consult your vet for medical and health care advice. You should not rely on any of the information on this website for medical diagnosis, treatment options or other health care decisions about your pet. When possible we have articles fact checked by experienced Vets and Vet Nurses.
Read full Disclaimer here